Top 5 Color Picker for Windows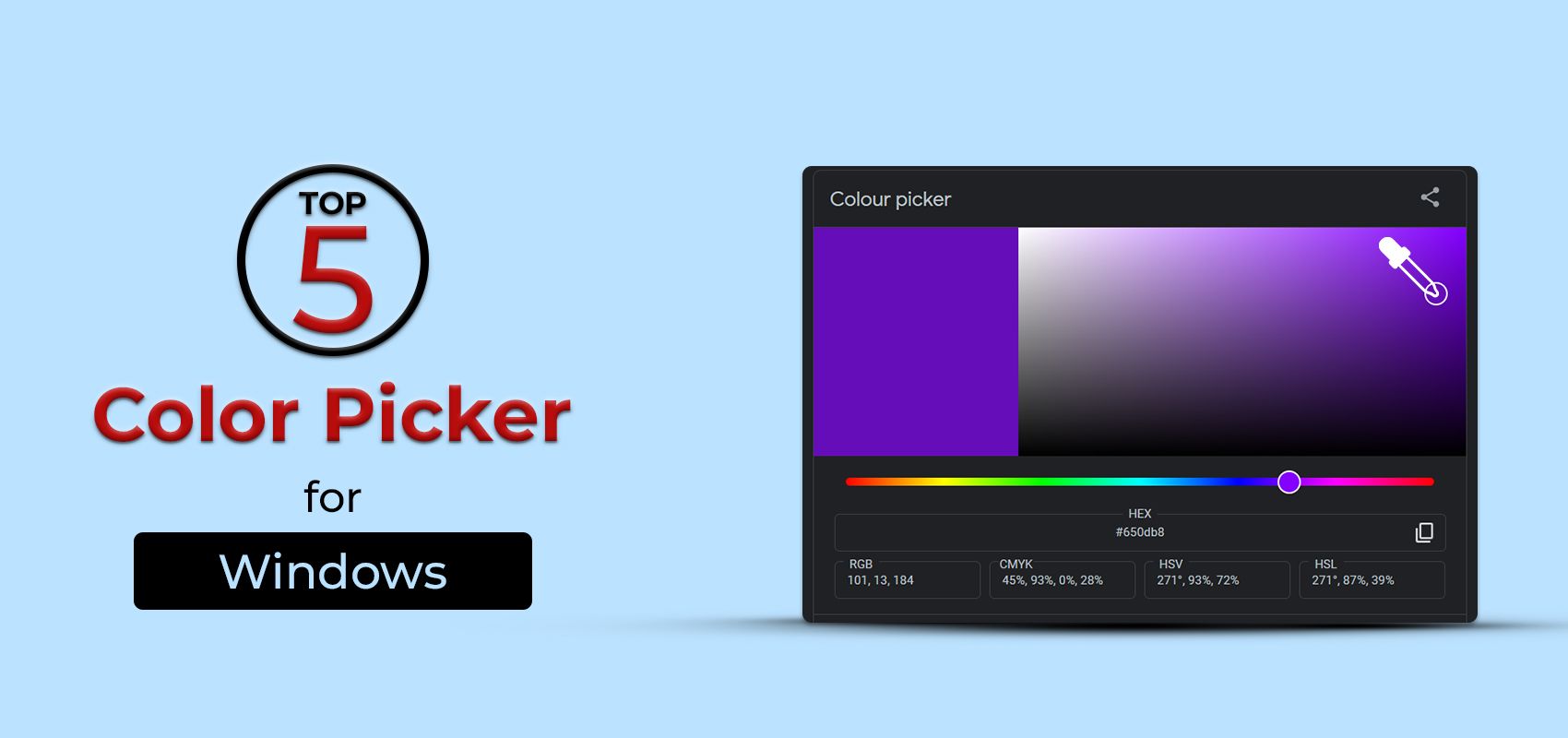 Unleash the artist inside you! With everything going online, there is a vast scope and demand for digital art nowadays. Whether you are a professional or an explorer trying your hands at graphics, we bring the color picker extension to your help. The color picker Chrome extension allows you to pick colors from anywhere all over the internet. Click on any color you like and bring it on your canvas. A color picker extension for Windows is an excellent tool for all the graphic designers and editors out there.
Color Picker Chrome extension
A color picker copies the selected color from the web page to the clipboard with an eyedropper. This copied color can now be pasted to other platforms as well. It's a beneficial tool for editing a photo or video or designing a webpage or logo. The color picker extension is very precise while choosing colors and also creates a personal color palette. It helps you choose your color from a specific point of the image or webpage. So if you think out of the box and can't limit yourselves to the default colors, go and choose from the vibrant palette of the internet.
Features of a color picker Chrome extension:
Easy to install and use
100% free
Available as an icon on the toolbar
Single click selection
Color Blender and scale available
Choosing between various color picker extensions on Chrome might be time-consuming. Here are some of the best color picker for Windows.
Top 5 Color picker extensions for Chrome
| | |
| --- | --- |
| S. No. | Name |
| 1 | Color Picker |
| 2 | Color Zilla |
| 3 | Instant Eyedropper |
| 4 | ColorPick Eyedropper |
| 5 | Color Cop |
Why need a color picker for Windows?
All the pen-paper work has been replaced by online platforms these days. Gone are the times of messy and time-consuming processes and struggling to find the perfect shade you want. Instead, use the color picker extension and create your art digitally. With all these advancing internet activities, you need to learn and pace with the technology. Although the color picker extensions are not compatible with mobile phones, but you can use them on any webpage you want. The color picker extension makes your work easy by allowing you to select,  adjust and modify, then use colors from any web page or image you see online.
Benefits of color picker extension:
Single-point accurate selection
Works on all webpages over the internet
Shows your color  choice history
Auto copies the color to the clipboard
Very Quick
How to install and use a color picker Chrome extension?
The color picker extensions are quick, fast and easy to set up. You can easily download them from the Chrome web store, pin to your screen and use them whenever you need. You can either use keyboard shortcuts or just a single click is enough to activate the extension. But if you are still confused about how to use the color picker Chrome extension, here are some easy steps for you.
Search for color picker for Windows in the Chrome web store.
Click on the "Add to Chrome" button.
The color picker extension gets added in the extensions area of your toolbar.
Click on the colour picker icon. You can also pin it for easy use.
Press Windows+Shift+c on your keyboard to activate the color picker for Chrome.
Click anywhere on the current screen or tab to select your desired color.
The color gets copied to the clipboard. Also, you can edit the color from the box that appeared.
Top color picker extensions for Chrome
1. Color Picker
Presented to you by Adcreative.ai, Color Picker is one of the best color picker extensions for Chrome. Very simple and totally free to use, this extension comes with various options that provide flexibility to the user. It lets you pick any RGB and HEX color code from any website. You can use this color picker extension on both Windows and Mac. The Color Picker extension helps you quickly scan all the colors on the website and presents you with the 12 most frequently used colors on that website. Also, it collects no information or your data, so you don't have to worry about your privacy. Just get the extension and work on your design.
More about the color picker extension:
User-friendly platform
Adjustable hue, saturation and lightness
History of selected colors available
Regular Updates
2. Color Zilla
Color Zilla is a color picker extension for Chrome used chiefly by web developers and graphic designers. It not only selects a particular color from the web page but also allows you to adjust and then copy-paste it to any different program very quickly. This extension inspects the whole page and its color palette. It has an ultimate CSS gradient generator which helps you modify the color selected. You can choose colors from any zoom level.
More about Color Zilla:
Web Page color analyzer
Palette Viewer
Keyboard Shortcuts available
Can pick colors from flash objects
3. Instant Eyedropper
Instant Eyedropper is a tool that selects and pastes to the clipboard the HTML color code of any pixel on the screen with just a single mouse click. Install it from the web store, and there it is! You can see its icon on the top right corner of your window. It is very easy to use and an efficient color picker extension for Chrome. Identifying the color code of any object on the screen is typically a multi-step process. But the instant eyedropper saves all the time and does your work within a minute.
More about the Instant Eyedropper:
Open-source extension
Single Click Process
Saves time
Two different methods are available
4. Color Pick Eyedropper
The Color Pick Eyedropper extension is a very user-friendly extension. It provides a simple zoomed eyedropper and color chooser tool. The extension selects colors from web pages or any other online services. Color pick uses lossless PNG quality to detect the colors. It also allows you to zoom or magnify the web page for better selection. For first-timers, it is the best color picker extension for windows. The extension is fast and easy to use.
More about the Color Pick Eyedropper:
No loss in quality
Works on various online services
Magnification available
Supports HEX and RGB
5. Color Cop
The Color Cop is a multipurpose and free color picker extension for Windows. It is beneficial for all the web developers and programmers. The extension can run on any computer without installation. The extension identifies and then represents the color in different HEX color codes. It has a simple user interface that allows you to easily pick color codes by dragging and dropping the eyedropper. In addition, it provides multiple output options and automatically copies them to the clipboard.
More about Color Cop :
42 colors palette created
Color mixing feature
Simple drag-and-drop selection
Screen measurement feature
So you just read about some of the best color picker extensions for Chrome. If you are a professional, be it a web developer, graphic designer or editor, you definitely need to try them and see the extra edge you get on your work. Even as a non-professional internet user, you need these tools to make your life digitally fast and easy. Work smarter, not harder. Cut the unnecessary steps in your projects and install the color picker extension for Chrome.